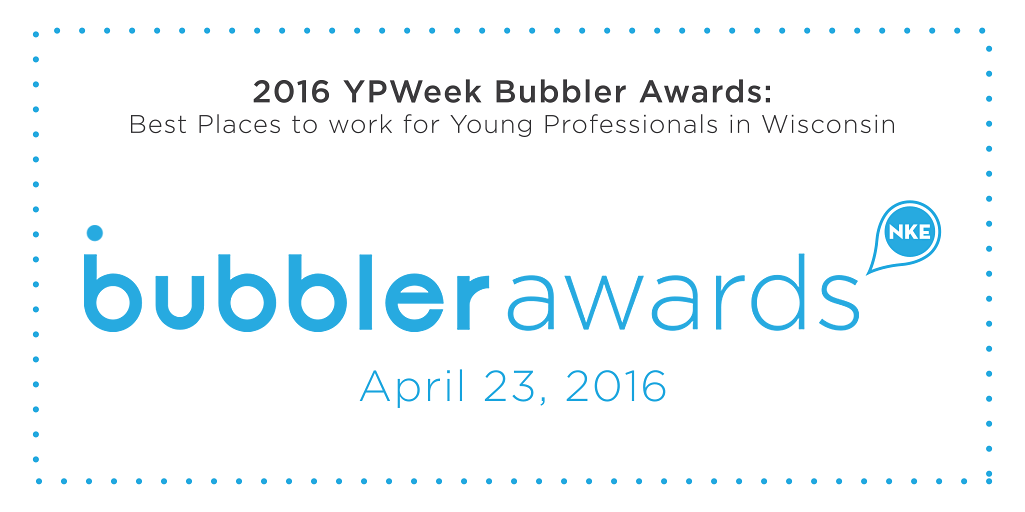 2016 Bubbler Awards Highlights Wisconsin's Best Places to Work for Young Professionals For the second year, YPWeek recognizes the Wisconsin companies that make it a priority to retain and engage their young talent through a dynamic workplace and Madison Magnet is requesting that young professionals submit their workplace for the 2016 Bubbler Awards.
"We now know that companies across the state are realizing the demand to evolve theiR work places to fit the needs of the young professional workforce," says Angela Damiani, president of NEWaukee, lead organization of YPWeek. "We're excited to be able to show that Wisconsin companies are taking the charge on this front and creating an environment that draws young professionals to work and live in this state."
Nominations for the Bubbler Awards will be accepted through February 26, 2016. The following criteria will be taken into consideration by a juried panel that will evaluate what Millennials look for in an ideal workplace: competitive salary and benefits, opportunity for advancement, work-life balance and employee engagement. 2016's Bubbler Awards winners will be announced on March 11, 2016.
The Bubbler Awards is an example of how YPWeek Wisconsin highlights the young professional voice. Additionally, the nomination and selection process establish a framework for existing and emerging young professionals throughout the state to collaborate and brand Wisconsin as a workplace destination for Millennials.
The Bubbler Awards Ceremony will take place in Appleton on Saturday, April 23, 2016 as the launch of the fifth annual YPWeek, hosted April 23 - 30, 2016. The Wisconsin Manufacturers & Commerce is a major sponsor of the 2016 Bubbler Awards. The Wisconsin Economic Development Corporation is a major sponsor of the 2016 YPWeek.
To find more information and to nominate a workplace, visit bit.ly/BubblerAward
YPWeek 2016 brings together key leaders in 15 communities, at purposefully chosen locations that integrate the unique cultural assets with meaningful learning or social interaction. The activities engage the millennial workforce in activities and experience that are important to them while educating employers on the important role these functions play in retaining their workforce. YPWeek 2016 includes the following communities: Door County, Fond du Lac, Fox Cities, Green Bay, Kenosha, La Crosse, Madison, Marshfield, Milwaukee, Oshkosh, Racine, Sheboygan, Stevens Point, Wausau and Wisconsin Rapids. Visit www.ypweek.com to learn more.